Strengthening your company
Whether you're looking for ways to cut costs, speed products to market, improve customer service, or strengthen your balance sheet, we can help you do that - and more.
Our end-to-end distribution services include everything from inbound material flow to finished goods warehousing, inventory management, inspections, returns handling - and of course, global delivery. It's the full support you need to get the right products to the right places, on time and in excellent condition.
We can help define, recommend, and set realistic supply chain strategies based on your organizations operations, resources, and other capabilities.
Milk- Run Services
TDS customers are able to combine their supply chain with many of the world's largest manufacturing companies, realizing true savings and efficiencies they could never reach on their own.
We have operations in all major trade hubs with Mexico to provide our customers a shared advantage. Operational services are improved by the reduction of transportation spend, inventory levels, and delivery timelines. We applied this concept to our logistics solutions, providing our customers with a sophisticated and lean supply chain. Our Team will work with you to review packaging dimensions, stack-ability requirements, consignee (supplier) coordination, to obtain maximum utilization and achieve a leaner operation.

Level Scheduling
By having consistent scheduled deliveries to your facility, it will allow you to staff your dock when needed and lead to repetitive dock processes which will result in labor cost savings. Also, a dependable supply chain will reduce the number of manufacturing line changes which will translate into production efficiencies.

Reducing Transportation Costs
Our "split-bill" methodology allows you to pay only for your shipment's weight percentage of each trailer load. Instead of separate deliveries from each of your suppliers, you receive everything from each of your suppliers in one shipment. In addition, your returnable containers will be shipped through our Milk Run which will reduce your cost of returning containers to your suppliers.

Managed Transportation
Our innovative Milk Run service provides a strong customized supply chain that allows you to operate more efficiently and with greater accuracy. We optimize every shipment daily allowing you to focus your ime and resources on your core business.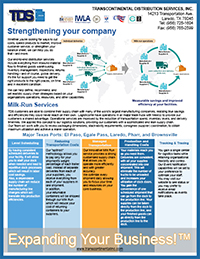 Production and Handling Costs
Your materials reach you as you need them. Deliveries are consistent, with all your supplies concentrated into one shipment. This will eliminate the number of trucks to be unloaded and increases your utilization of dock doors. You gain the convenience of one scheduled shipment that can go from the dock to the production line. Your supplies can be taken directly from the dock to the production line, and your finished goods can go directly from the production line to the dock.
Tracking & Tracing
You gain a single center for logistics tasks while retaining organizational flexibility and control. Our Event Notification capabilities will be set to your preference to optimize your staff. You may visit our website to see status or you may prefer to receive email notifications as events take place.
Become a contract carrier for TDS, Inc.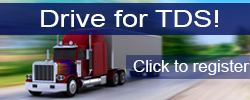 Quality. Dependability. Professionalism. If this describes you, you may have the right stuff to be a contract carrier for TDS, Inc. Working with quality contract carriers around the world, we coordinate deliveries of tens of thousands of shipments each day. We make it easy for you to find loads, post trucks, and move your business forward.

To become a contract carrier call our toll free number: 1 (877) 690-8878 or complete our on-line form Here.
Review and agree to the following forms:


You will need the following documentation:
A Federal or State Operating Authority (MC or ICC #)
Proof of insurance (minimum of $125,000 cargo and $750,000 automobile liability) naming TDS, Inc. as a certificate holder
A completed W-9 form